Note of Thanks
By Emily Freeman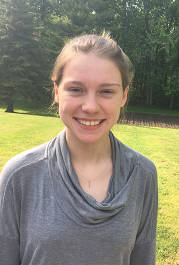 Dear First Baptist Church Family:
It has been an absolute blast to be the summer student this year! At the beginning of May I really had no idea how we were going to pull together Vacation Bible School. I had only ever been a volunteer at VBS before this summer, and had very little insight into how much generosity, teamwork, and love goes into a project such as a week-long day camp for little ones. Although the task seemed daunting at first, help came from so many people. From our patient group leaders to our skilled site leaders and everyone who was willing to do some work behind the scenes, or donate food and props: thank you!
You are truly the heart of this whole operation and I have endless appreciation for your willingness to devote time and talent to helping teach our children that they are "built for a purpose." The week went off without a hitch and I credit that all to you!
In the coming year, I will be returning to Mohawk College to finish my Legal Administration program, but will keep all of the lessons I learned this summer with me as I go. I wish everyone the best of luck as we enter the school season once again, and can't wait to see where this year takes us as a church.
With endless thanks and all my love,
Emily Freeman