From Darrell's Desk
By Rev. Darrell Maguire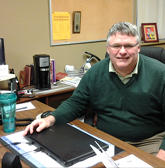 I will freely admit it. there is just no way around it. I always seek to be comfortable. I was reflecting on this desire of mine a week ago, as I endeavoured to catch a nice walleye for a fish dinner. The fishing was slow, but the bugs were plentiful. Even out on the water I was facing the trifecta of irritation. Blackflies hit my neck. Mosquitoes hit everywhere, and the deer and horse flies were relentless. I began to wonder if catching that fish was worth it. In an effort therefor to persist at my task, I dug in my backpack for my can of "Off", and for a time worked like a charm, but then I smelled like deet.
This experience which is not unknown to many campers and outdoor lovers, got me thinking about whether or not the goal of our faith is to be comfortable. In our worship experiences we dwell on being comfortable all the time. Is the sanctuary air conditioned? Are there on the pews? Is someone sitting in my spot? Does the minister preach a sermon that makes me feel good, or convicts me of a needed change in my life? Are the coffee and goodies after church up to par? (Marianne and Grant sure make our refreshment time pretty good.) Is it my kind of music being offered by the worship team? You get the idea.
However, as insignificant as some of these issues are, I fear this desire for comfort carries over into more challenging areas. I am concerned that our desire to be comfortable keeps us from tackling the hard questions of our faith. I wonder if our desire for comfort keeps us from meeting and engaging with our neighbours who are a little different from us. Does our desire to be comfortable lead us to side with public policy that benefits us, but fails the most vulnerable in our society? A most recent example of this our our Provincial government's slashing of the Legal Aid budget, health unit budgets, and teaching budgets: all to keep taxes low or in the name of balancing budgets. This despite the devastation it wrings on the poor, marginalized, and the young children who need extra support. In summary, in my effort to be comfortable, am I turning a blind eye to the "least of these"? Am I my brother's or sister's keeper?
In our own community the challenges of poverty, addiction, and mental health are staggering. In 2015 14.4% of Ontario families were considered to be low-income, but in Simcoe the number is 17.2%. Emergency housing in Haldimand/Norfolk is getting 50 calls a day for help and in 2016/2017, 500 households received emergency housing. In any given year, 1 in 5 Canadians experiences a mental illness or addiction problem; and often they go hand in hand. Among Ontarians aged 25-34, 1 out of every 8 deaths is related to opioid use. The annual cost to the Ontario government for alcohol-related health, law enforcement, corrections, and lost productivity is estimated at 5 billion dollars. And our government made "buck a beer" a high priority. In Canada the cost of alcohol-related problems was 38.4 billion.
The reality is that poverty increases stress and persistent feelings of helplessness, which forces a person to ease the stress, and many turn to substance abuse and gambling. People who make $30,000 a year or less are also most likely to develop problems around gambling. Those with a gambling problem think that by continuing to wager they are getting closer to a big payday, but they are simply digging a deeper hole for themselves. Families who live in poverty are more likely to have interactions with police and child welfare officials.
For many who live in poverty, or struggle with addictions or mental health, being comfortable is a "pipe dream". A seemingly out of reach goal. Every day is a challenge to "keep it together". To survive another day. Jesus calls us to walk alongside the "least of these". In Matthew 25 He makes it clear that how we treat the marginalized is how He will separate the sheep and the goats. How is that for making you comfortable?