Meet the Minister
Rev. Darrell Maguire, BA, MDiv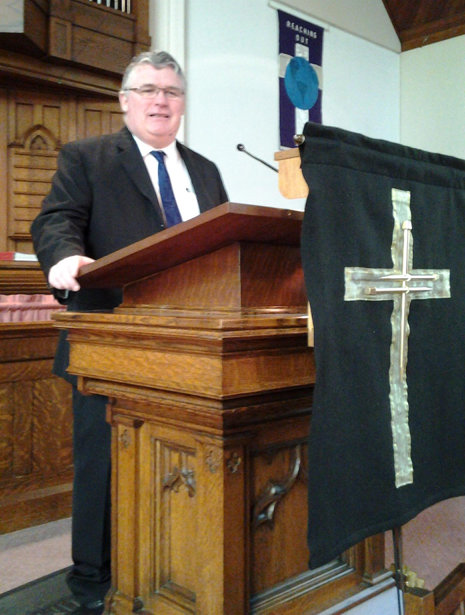 Darrell Maguire has strong ties to the local area. He was born and raised nearby in Brantford, Ontario. He has also worked at Camp Oneida as a Bible study leader, a counsellor, and a director.
Darrell studied at the University of Guelph, from which he received a Bachelor of Arts (BA) degree in philosophy. He then continued his education at McMaster Divinity College where he earned his Master of Divinity (MDiv) degree.
After his ordination in 1987, Rev. Maguire first served at two churches in Quebec before returning to the local area. He then served as part-time pastor at Tyrell Baptist here in Norfolk County. During this time, he and his wife, Laura, owned and operated a Christmas tree farm in Selkirk, Ontario which included a bed and breakfast and green­houses, among other things.
In 2003 Darrell, Laura, and their two children moved to Toronto when he became the minister at Donway Baptist Church. While there, Rev. Maguire was very involved in his community with projects such as the Don Mills foodbank, Chinese ministry, and serving as an on-call chaplain for North York General Hospital. He served at Donway Baptist for 13 years before coming to Simcoe First Baptist in 2016.
Darrell and Laura have two adult children: a son, Joshua, who is married to Sandra; and a daughter, Rachel, who is married to Jordan. The Maguires are happy to be back in this area where they are close to extended family and long-time friends.
In his free time Darrell enjoys fishing, socializing, and spending time with his family.
Rev. Darrell Maguire joined First Baptist Church on November 27th, 2016. We look forward to many years of doing God's work together under Darrell's leadership.
---
If you have a spiritual matter that you would like to discuss with Rev. Maguire, you can e-mail him at minister@simcoefirstbaptist.ca.