From Darrell's Desk
By Rev. Darrell Maguire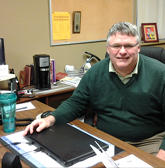 By the time most folks have an opportunity to read this little article, the new school year would have begun, and many recreational programs, church programs, and personal and professional obligations have also begun or resumed. I have always found it odd that September has always felt more like a new year to me than January 1st. I've noted that not a great deal changes in our lives between December 24th and January 2nd, but the day after Labour Day can be monumental, with new levels in school, new jobs, new adventures.
When I was still in school, even at the university level, I looked with excitement at the beginning of a new school term. The retailers clearly know of our level of anticipation with their explosion of back-to-school "sales". I remember the minor thrill of going off to buy new clothes for school, new stationery supplies, and later in university, bankrupting myself in the purchase of textbooks, which were irrelevant the moment the term was over. However, that excitement soon diminished with the first round of assignments, or my first run-in with a difficult school mate or even on occasion a teach­er/pro­fessor.
Like that new car smell, newness fades fast. The new school clothes get stains or tears. The pencils get sharpened to nubs. The computer printer goes through ink like water flowing through a fire hose. That cute new girl in your grade ten science class who piqued your interest on day one of the semester doesn't even know you are alive in November. Your fantasies of getting straight As are quickly erased by your midterm report. And every day, as the days get shorter, you find yourself more and more not wanting to get out of bed.
Don't you wish you could keep that newness or freshness alive? Not just through the school year but all the time. Clearly, the issue with fading newness lies not with school programs, or relationships, or church events. To really grow as a person requires quite often that we persevere. In trudging through the familiar routine, we become disciplined and foundations are poured from which new things can be built.
If we really want a more permanent experience of newness, then the solutions it seems to me is not found externally but internally. In Ezekiel 26:26 we read, "And I will give you a new heart, and a new spirit I will put in you. And I will remove the heart of stone from your flesh and give you a heart of flesh." It seems to me that then the "bloom is off the rose" so to speak in our new season of all activities, the issue may not be with the activities or the people leading them. The issue most likely resides in us.
Sometimes when we want something or someone to change, we believe the onus is on the other person. The Apostle Paul wrote, "Therefore, if anyone is in Christ, he is a new creation. The old has passed away; behold the new has come." Perhaps it is a bit simplistic, but there is some merit to saying that if you want a better teacher, maybe you should be a better student. If you want a better spouse, maybe you should be a better spouse. If you want your place of work to be a better place, maybe you need to consider being a better employee. If you want a better program at church or the recreation centre, perhaps you need to consider being a better participant. We cannot be responsible for someone else's feelings. For example I cannot make anyone angry. They must decide to become angry. However, I control myself, or at least I should.
The beginning of the fall is a great time to assess what the condition of our hearts is. Is it one of stone, or is it flesh? Are you a new creation through Christ, or are you the same as you've always been? As we walk into whatever new experiences await us this fall, do we demand everyone accommodate us, or do we accommodate them? I think I know what Jesus is asking us to choose.