Opportunities for Everyone
Worship with and Island Flavour
The Caribbean Workers' Out­reach Project jerk chicken bar­becue and wor­ship service will be held at First Baptist Church on Sunday, September 3rd at 6:30pm. All are welcome!
First Serving Resumes
Monday, September 25th
After taking a break this summer, people are needed to get the program rolling! The fourth Monday of each month, people of all ages get together to prep food, set tables, cook, serve, eat with the guests, and clean up. Helpers enter from the alley door.
Contact Nancy Carroll for more information.
Senior Choir
Weekly rehearsals include a short devotional, music reading skills, pitch matching, and social time.
Come join us as we prepare music for the weekly worship service. All teenagers and adults are welcome.
Rehearsals are Thursdays from 7:15 to 8:30pm.
For more information contact Jim Carroll.
First rehearsal is Thursday, September 7th.
Another Way to Stay in Touch!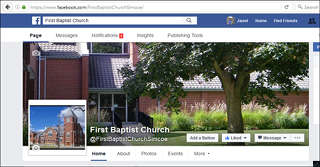 "Like" the First Baptist Simcoe Facebook page
New … our own Facebook page!