From Darell's Desk
By Rev. Darrell Maguire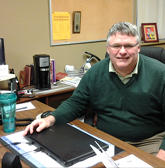 Well we got through another year. Maybe a bit bruised and battered, but we made it. Time for that annual self-abusing process of resolutions, or annual assessment. A process which I never understood. I mean, if you need to change something in your life, why do you have to wait to a certain calendar date, which in all seriousness is arbitrary anyway? It's not like the calendar's creator roughed it out and said, "Hey! I bet people will get to January 1st and make a whole rash of resolutions." But, if it helps you personally, well God's speed.
Another tradition at this time of year is the retrospective that television networks cobble together to look at the best and worst of the past year. Even the Weather Network does one of the top ten storms, etc. I find these shows interesting, mainly because they reveal how short my memory really is. I mean, they retell a story from the past year, and I think, "When did that happen?" Sometimes, I think, "Oh, I remember now!" The same thing happens when I write my annual report for the church, and I pull out my day planner, and read through the past year. As I do this there are several times I find myself recalling events, or people, I had forgotten I had interacted with and sometimes I even wonder why I crossed paths with them.
The one thing I know for sure is that our wold seems to be shrinking. Events across the globe are now impacting us at a great rate and intensity; if for no other reason, then to cause us anxiety. When Jesus said "there will be wars and rumours of wars" … he wasn't kidding. Lately, I have felt that the inmates are running the asylum. As an example: they used to say that when the USA sneezed, Canada caught a cold. I am concerned lately that we are getting pneumonia.
So, is my glass half empty or half full as this new year begins? It all depends on which day, or even which hour you talk to me. The world has made great strides: in theology, in good people still striving very hard to alleviate suffering, significant ministries and projects moving ahead (Riversyde 83 for example). There is much to feel good about. But the problems we face are becoming staggering and solutions becoming more elusive.
On December 19th, 2017, just before Christmas, the Toronto Star carried a tiny little two paragraph story that in my mind should have been on the front page in bold letters. According to a recent UN report, it is now estimated that the world has (are you sitting down for this) 258 million refugees or migrants. Two thirds of the migrants, many who are undocumented, are living in just 20 countries, Canada included. The consequences of the largest displacement of human beings in history is staggering. It is affecting economics, security, social cohesion, and creating levels of xenophobia unlike anything we have perhaps ever seen. Just pay attention to the rising levels of white supremacy or far right political groups.
However, I do console myself with a critical truth. The world has always experienced changes. Every generation has seen things happen that have altered their world for good or for bad. The good news is that through all the changes, God remains constant. Constant in His love. Constant in His care. Constant in His concern. Constant in His desire to redeem and guide humankind. The point is that I have no idea what 2018 will bring. But I also didn't know what 2017 was to bring. Yet it matters not, because God is in the midst of it. Remember in the book of Revelation in a graphic picture of upheaval to a persecuted church, one phrase rings loudly and eternally from its pages; "Our God Reigns!" It was so last year, and it will be so next year, and forever more.