World Day of Prayer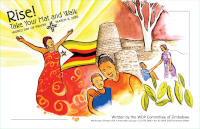 For an explanation of this year's banner go to
www.worlddayofprayer.net
"Rise! Take Your Mat and Walk"
Friday, March 6th at 1:30pm
People from seven different local churches will gather for prayer, music, and thoughts as written by people in Zimbabwe.
Contact the church office to find out the host church in this area.
World Day of Prayer is a worldwide movement of Christian women of many traditions who come together on the first Friday of March each year to observe a common day of prayer.
Through World Day of Prayer, we affirm our faith in Jesus Christ and engage with the whole world, are enriched by the faith experience of Christians of other countries and cultures, share the burdens of other people by praying with them and for them, and use our own talents in the service of God's world.
Prayer and action are inseparable and both have immeasurable influence in the world.