From Alex Forde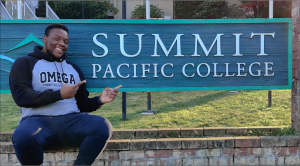 I ahve just finished my first semester of the OMEGA Global program at Summit Pacific College in British Columbia. OMEGA stands for One-year Ministry Education with Global Awareness, and the objective of the OMEGA program is to use and develop the head, heart, and hands of those who desire to serve Christ and love the church. We hope to be a Spirit-empowered change in the world through community involvement and overseas humanitarian aid work.
I have chosen to enrol myself in this program in hopes that I could understand more of what it is like to serve as Christ would. I have been studying and gaining knowledge about the Bible and the life of Jesus. I have been given the opportunity to volunteer on a weekly basis, at a plant church and a NFP organization that helps provide meals, clothing, and medical services to those in need. All this is helping me build the skills I will be using towards a 3 week missionary trip to Brazil.
At the end of this year the current OMEGA class will be travelling to Brazil to serve. There we will be partnering with global workers and we will be involved in teaching ESL classes, serving local churches, and providing humanitarian aid. In addition, we are raising funds to support a global project. This year the project is assisting Home of The Good Shepherd. They are a shelter in Brazil for children living in unsafe conditions. We will be helping them make facility improvements.
In order to make this project successful I am asking for you to join our team whether financially or prayerfully. This year, our collective goal is to raise $11,000. Funds raised go towards our project. In the last five years, OMEGA has raised over $100,000 to help with projects around the globe.
If you are interested in partnering with me, I would love to tell you more about my OMEGA year so far, the upcoming trip, and how you could partner with me. Your support would be greatly appreciated.
You can reach me at alex.forde@summitpacific.edu
Online donations can be made at https://secure.summitpacific.ca/donation.php
When selecting the designation of your donation, please choose the Omega Projects option. This will help donate directly to our project in Brazil.