Opportunities for Everyone
First Serving
The fourth Monday of each month, people of all ages get together to prep food, set tables, cook, serve, eat with the guests, and clean up. Helpers enter from the alley door.
Can you help?
There is a need for some advance preparation for First Serving once per month.
➢ One individual is needed to coordinate a small group of people (2-3 people) to make salad on First Serving Mondays during the day (they can choose the time).
➢ Another individual is needed to coordinate some baking bees at the church (3 or 4 a year) to makes desserts (cookies, squares) for our meal.
If you are interested in either of these two volunteer roles, contact Nancy Carroll.
Offering
Have you arranged to use automatic debit for your offering?
If so, you are invited to use an empty envelope from the pew benches at offering time.
Contact Jay Hoover to sign up for automatic debit offering.
Another Way to Stay In Touch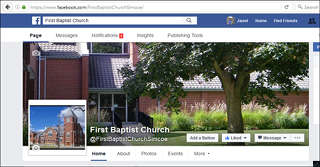 "Like" the First Baptist Simcoe Facebook page
New … our own Facebook page!