The Back Page
By Wendy Squires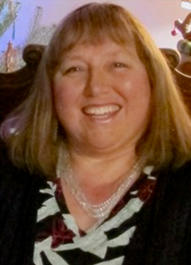 February, the month of valentines, heart-shaped everything, chocolate, and more chocolate. There are come aspects of the month of February which are quite appealing. How do you tend to celebrate Valentine's Day, if you do at all?
For myself, for many years, it was a time to focus on family and friends. I enjoyed baking heart-shaped cookies for my nieces and nephews. I would follow a recipe that had been in seasonal use since my mother had done so, to send in the same tasty treats to my kindergarten class. I remember for many years, as a single adult, being very aware of all the advertising in print, television, etc. encouraging one and all to buy that particular gift that would convey without a shadow of a doubt that the recipient was your one true love. I even remember a few years when a group of my single friends would gather for a gourmet potluck dinner on February 14th. We were all without any love interests or prospects of the same. We called it our "Rotic" dinner: "Romantic without the man." And while the friends did help, it was sometimes a difficult day to get through. So I do understand how for some people, this may not be their favourite time of the year.
I was very fortunate and blessed when Randy entered my life. And I must say that Valentine's Day did take on a different significance at that time. It was, and continues to be fun to plan and prepare a surprise. The surprise may not be elaborate or expensive, but it does need to be one that shows we love and care for each other. I once got him a special screwdriver that had all of the different heads interchangeably in one tool. He had often been on the hunt, never having the right screwdriver for the job at hand. It doesn't sound romantic at all, but it was what was needed. (And it does have a red handle!) We would also often opt for a stay-at-home meal over an expensive, over-priced because of the day, restaurant outing. Randy and I took turns for many years, planning and preparing for the evening. The special meal would often include several different courses and an adventurous cuisine. I can still tell you exactly the menu Randy took on the first year that he was chief cook. Spectacular! Valentine's Day for us has always been a time to focus love, a selfless love that incorporates putting the other person ahead of ourselves. It is a love that also encompasses an aspect of servanthood, such as making a gourmet meal for the other person.
When Stephen joined our family it didn't seem right to exclude him out of the day's events. If Valentine's Day was a day to celebrate love, then it was a natural follow-through that it was a day meant to include our whole family. For family is all about love. So our menus took on a different tone and flavour. It was now lasagna instead of shrimp linguine. The gifts and the day continued to be about celebrating each other. (I know parents need time away from children, so we do go out as a couple on our anniversary.)
For me love is grounded in the Biblical aspects of love. Love is about acceptance, service, and grace. For this reason I prefer to have a more expanded view of February 14th and not just the couples/romantic exclusive type of Valentine's Day. That is why I like to celebrate Valentine's Day as a day to honour my love for my spouse, for my child, for my friends, and be grateful for the love and grace bestowed on my by Christ. For this reason I am very excited about what First Baptist Church is doing on Valentine's Day. The First Desserts event will by a fundraiser for Riversyde 83. This is an organization that knows all about servanthood, grace, and love. And it is an event to celebrate all together: copules, singles, everyone is welcome. And I am sure that there will be some chocolate. This will be my kind of Valentine's Day. Hope to see you there.